---
Everything you need to know about the Jetforce Airbag Technology 📚🎒

Jetforce Airbag Technology is state-of-the-art technology that inflates your Airbag Electronically. This means you can store more than a single-use off one charge and use it repeatedly by simply re-inserting the deflated airbag into your pack.
The patented Pieps Jetforce Airbag technology can now be found in the following packs: 
Snowsafe breakdown everything you need to know about the jetforce airbag technology:
---
How does the Jetforce Airbag Work?
---
How does the Jetfan technology work?

When you press the activation button, a powerful battery powered fan starts pulling in air from the atmosphere to fill the bag.
Once inflated, the fan goes through a regular reinflation cycle for 3 minutes ensuring that the bag stays inflated even if it has any tears.
The Fan speed runs at 60,000 rpm.
---
How do you power up the Jetforce Airbag Technology?

The JetForce airbag is powered by a travel-friendly rechargeable lithium battery.
Like a laptop, when its running low on battery it needs to be charged, the jetforce airbag is the same.
It takes around 1 hour for the jetforce battery to be fully charged, this will allow you to run test activations and be ready for a day in the backcountry.
---
Jetforce Airbag Filling Time

Fan timing is controlled by the electronics, here is how it cycles:
0-9 second – Mandatory Fill: During the first 3.5 seconds, the airbag fills 100%. For the next 5.5 seconds, the system continues to run at full speed for safety redundancy.
10-60 seconds – Active Performance: The system pulses between full speed and 50% speed. Since this is the most likely time to be carried by the avalanche, it is most critical to maintain full volume and recover from any possible tears.
61-180 seconds – Volume Maintenance: The system has 20s stand-by intervals between 3s full speed refilling pulses. The goal is to maintain the volume to aid in visibility and meet CE timing requirements.
181 seconds – Active Deflation: After 3 total minutes, the bag will automatically deflate. If partially or completely buried, this has the potential to create a large volume of air for breathing and/or extraction. If unburied, this simply helps repack the airbag quicker.
---
Automatic System Self-Diognosis

Like no other electronic airbag on the market, The Jetforce Electronics performs "good-to-go" system check on every startup; LED lighting in the handle indicates system status.
Green = Your Jetforce pack is good to go and is ready for any given avalanche emergency situation.
Blue = The battery level on your jet force airbag
Red = If there is a fault in your airbag.
It's recommended to run this self diognosis in your morning avalanche bulletin.
---
Automatic Deflation 

The Jetforce Airbag automatically deflates after 3 minutes to create a potential air pocket to help you breathe if you have been caught in an avalanche, it also aids in extraction and facilitate repacking.
How to repack your jetforce airbag?
---
Puncture Recovery
Secondary inflation pulses allow the puncture-resistant Cordura® airbag to maintain inflation despite small punctures or tears.
---
Zero Cost User Practice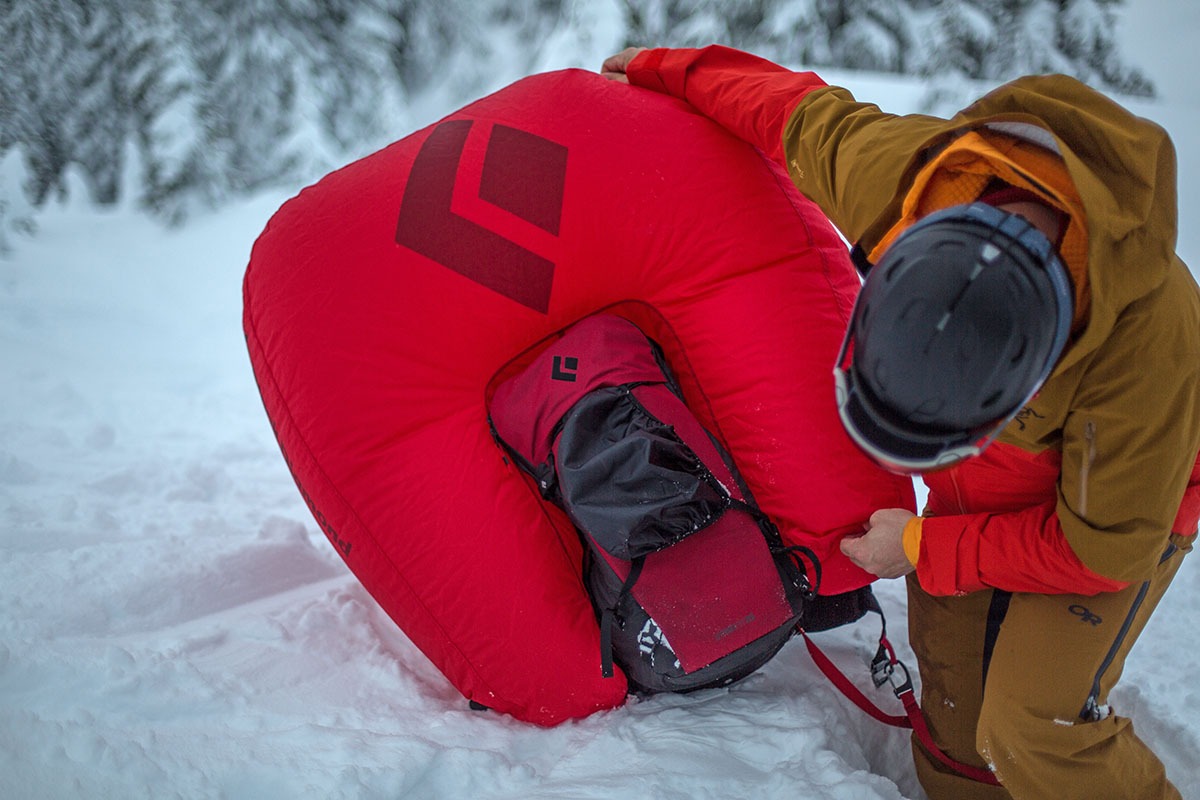 JetForce Pro can redeploy multiple times on a single charge, costing minimal time or money – to practice as often as needed.
Whether deployed for practice, in a false alarm or during a slide, it's easy to re-arm the system for up to four deployments on a single charge.
---
Is the airbag removable? 

Unlike the Alpride E1 System, the Jetforce Airbag technology is NOT removable.
Black Diamond and Pieps come up with a modular system of using boosters which means you can zip on a 10 litre, 25 Litre or 35 Litre onto the front of your base unit.
This allows you to pack for whatever trip you have in mind, from freeriding, to Multi-Day Ski Tours. 
---
Can you update the jetforce software?

Bluetooth connectivity allows you to connect wirelessly to the Pieps App for system analysis and firmware updates.
you can also update the Pieps & Black Diamond beacons via the same Pieps App.
How to register and update your firmware?
---
Flying Hassle-Free

Like the Alpride E1 System, the Jetforce are also not subjected to any restrictions for transport, shipment or storage. 
To find out more about both systems, please visit our blog Alpride E1 Airbags vs Jetforce Airbag technology.
---
Conclusion 
so there you have it, you now know what Jetforce airbag technology has to offer, if your looking for a pack with hassle-free flying, intuitive self diagnostic technology and easy software updates then the jetforce is the right pack for you: 
---
Snowsafe Blogs:
It's important to stay safe and have the correct training when skiing or snowboarding off-piste please check out further blogs below:
If you would like to feature a blog about your organization or experience in the snow please feel free to contact us on info@snowsafe.co.uk or 01273 920 707 . We are happy to take guest blogs linking back to your website.