How do Avalanche Airbags work?
All Avalanche Airbag Systems work on the same basic principles, whether it's an electronic or canister powered system:
Charge and run a self-diagnostic or install a compressed gas canister into the airbag unit.
Pull the activation trigger and the airbag system fills with air, be that using a jet fan or supercapacitors to suck in the surrounding air or from the attached compressed gas canister.
Most airbag systems deploy in around 3.5 seconds 
So now you know how avalanche airbags work, you're probably wondering how does an avalanche airbag boost my chances of survival in an avalanche.
---
How does an avalanche airbag boost my chances of survival in an avalanche? 
Avalanche statistics show that Avalanche airbags have been tried and tested to increase your chances of survival in an avalanche accident.
How this helps you is called the "Brazil Nut Effect", in the case of an avalanche slide,  Snow can become very granular and heavy meaning high volume items will rise to the surface, whereas smaller items will sink to the bottom. 
Let's Experiment together
Get a clear lunch box and fill it with Muesli (Half full)
Ensure the lid is on, no one needs Muesli over the floor 
Slowly shake the lunch box for around 10 to 15 seconds
Place the box on a flat surface and remove the lid slowly.
What's happened? 
You will have noticed that the heavier items like the nuts and raisins are now at the top of the surface whereas the oats, flakes and smaller particles have sunk to the bottom, this is exactly how avalanche airbags work, strapped to your back, once activated the large balloon inflates and creates a large volume around your head which will bring you to the top of the surface.
---
What avalanche airbag systems are available on the market? 
Over recent years ski touring and exploring untouched terrain in the backcountry has become very popular, with the market growing, more brands are emerging into the airbag market, with new technology and creative ideas. 
Snowsafe hand selects the best avalanche airbags in the market each season to provide the very best, please see what airbag technology we have to offer: 
Electronic Airbag Systems:
---
Alpride E1 Systems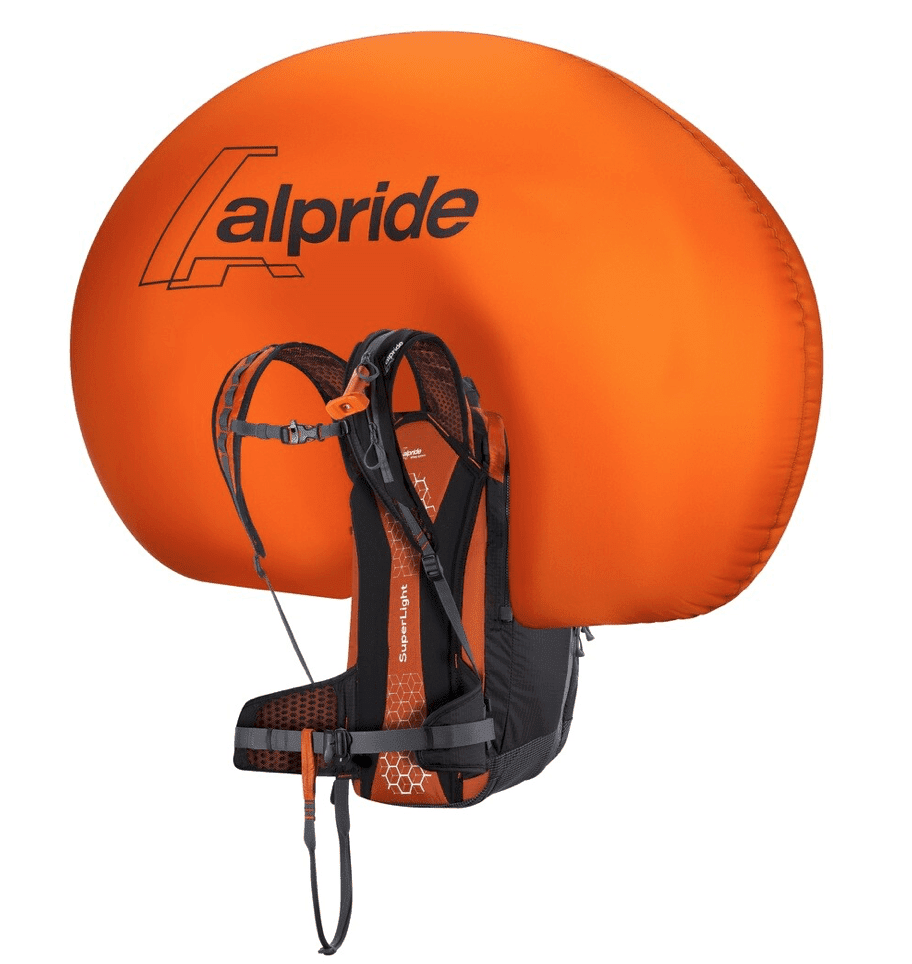 The Alpride E1 is a fully electronic avalanche airbag, its supercapacitor technology replaces the traditional Li-ion battery that the Jetforce uses and results in the lightest electronic device on the market.
Supercapacitors store electrical energy without any chemical reaction (unlike lithium-ion or lithium-poly batteries)
Supercapacitors are not sensitive to lower temperatures, meaning you get the same performance from -30°C to +40°C.
Alpride has collaborated with major brands such as Scott Sports, Black Diamond and Osprey to create some of the best electric airbags to date.
Find out more in our blog: Everything you need to know about the Alpride E1 Airbag System 
---
Jetforce Jet-fan Technology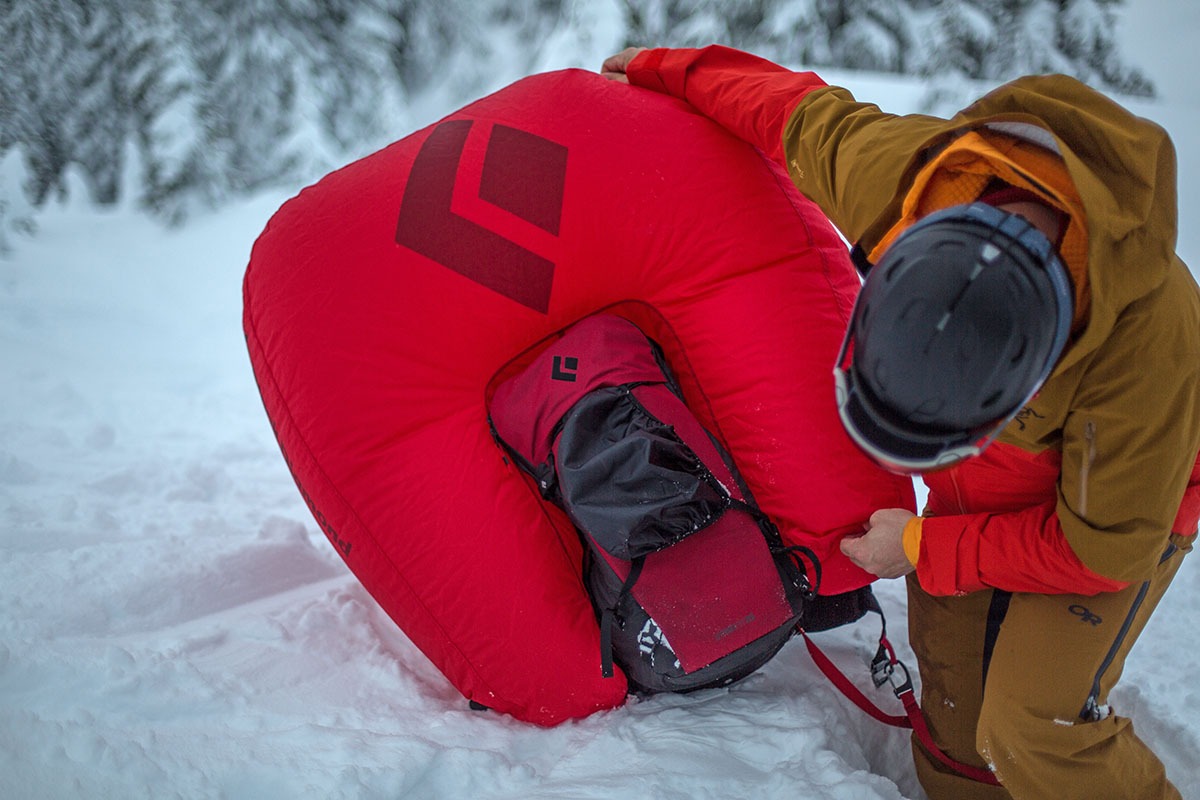 The Jet Force is the first Avalanche Safety technology to use Jet-fan inflation. This is a breakthrough system that draws air from the unlimited source of the atmosphere.
The battery-powered jet fan inflates the Airbag in 3.5 seconds, and then the 200L Airbag automatically deflates after 3 minutes to create an air pocket to aid in extraction.
Black Diamond and Pieps have created their own Jetforce technology which they only install into their own branded backpacks. 
Find out more about what the differences are between the two electronic systems, Alpride E1 Airbag System vs Jetforce Airbag Technology.
---
Canister Powered Airbags
---
Ortovox AVABAG Units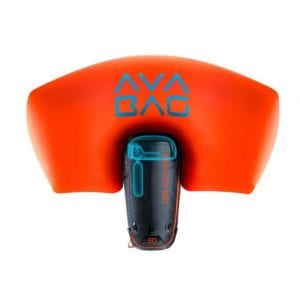 The Ortovox AVABAG is an Extremely Light Airbag System. Thanks to its Innovative Airbag Processing Technology whereby the material is processed for the first time ever without Sewing or additional Sealing.
Thanks to the drastically Reduced Venturi Unit Ortovox have managed to achieve a sensation system weight of 690g. In this sense, simplicity means a reduction in components, lower weight and a high level of reliability. 
---
Mammut RAS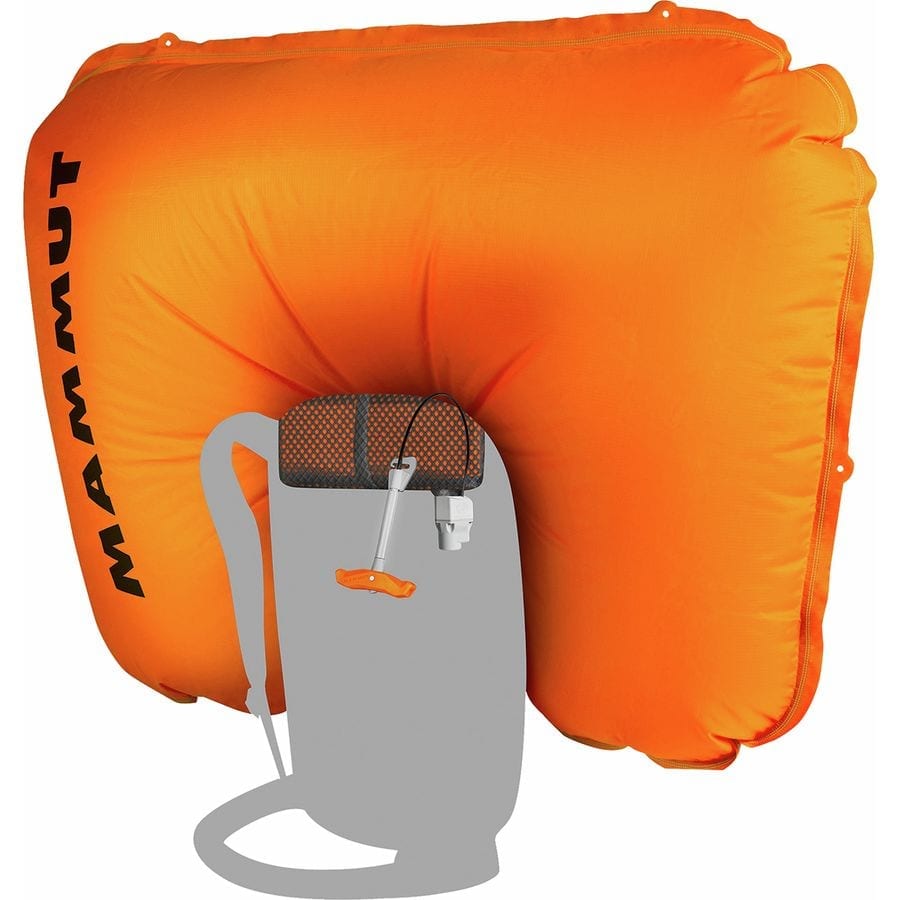 The Mammut Removable Airbag System 3.0 is an avalanche airbag system based on a square, brightly-coloured airbag that deploys behind the wearer's head within seconds.
Very small packing volume: Fully integrated into the backpack. Does not get in the way of internal organization
Dependable: Compressed gas energy storage is not affected by the weather or the temperature
Complete flexibility: The user can remove the system from the backpack and transfer it to other backpacks in the range. The backpack can be used for other activities.
---
Travelling with an Avalanche Airbag?
When purchasing an avalanche airbag it's always important to consider where you'll be travelling to, be that Europe or North America. Airlines often have different rules and regulations regarding airbag packs and cartridges so always make sure you check with your airline beforehand.
It's always easier travelling to and within Europe than it is in North America, the USA Travel industry is controlled by The TSA (Transportation Security Administration) which have jurisdiction over all aircraft and passengers to the United States.
This means they do not allow any passengers to travel with pressurised canisters either in hand luggage or in hold luggage. The same rule applies to Canada.
The rules and regulations do NOT apply to electronic airbags, you can travel worldwide with electronic airbags like the Alpride E1 System or the Jetforce Technology, they use the same battery type as a laptop so you can either take this on board like its hand luggage or place it in the hold.
In Europe, some airlines will allow you to travel with a pressurised canister like the Ortovox avabag cartridge or ABS canister if they are notified beforehand. 
We always advise that you contact your airline before you travel just to explain what you are travelling with, as the market grows airlines are more aware of the systems and staff have the knowledge. 
---
Care and Maintenance of your avalanche airbag? 
Pack inspection 
Give your airbag backpack the once-over by inspecting for any damages, rips or snags, check the shoulder straps and hip fins are correctly attached to the pack.
Electronic Airbags
This is a good time to also make sure the deployment trigger is fitted correctly and deployment is working, Most modern avalanche airbags allow you to run multiple test activations without any cost, Electronic airbags like Black Diamond & Pieps Jetforce and Alpride E1 Airbags will allow you to test activate your pack around 5/6 times on a single charge.
Firmware updates on electronic airbags
Like most of us we have now moved on from canister powered packs and  own a electronic airbag which means being up to date with firmware is extremely important.
The Black Diamond and Pieps Jetforce Technology Airbag can be updated via the Pieps App via your smartphone.
The Alpride E1 Airbags are set on one firmware which does not need to be updated.
Like all electronic items, if there not used or charged for a while then it can cause problems, We recommend charging and test activating your electronic airbag regulary in the summer.

Canister powered airbags
Canister powered airbags like Ortovox AVABAG & Mammut RAS offer a speical rearming tool which you screw into the canister unit, this will allow you to run test a activation with the trigger (No canister or airbag will be deployed) 
If you have a canister powered pack like the Ortovox AVABAG or Mammut RAS its important to ensure that the canister is in date and is not under the provided weight. 
If you have had your canister for two seasons then its important to run a test of your bag and then refill your canister or purchase a new one.
Cleaning your airbag 
We recommend hand washing with mild soap, cold water and a soft-bristle brush. Never bleach your pack. Hang to dry in a warm but shady place, ensuring both inside and out are dry before storing.
Storing your airbag 
If you own a Alpride E1 compatible bag we recommend removing the batteries before storing your pack so the batteries dont corrode in the airbag battery terminal.
Ensure the Alpride E1 and Jetforce airbag unit is switched off before storing.
Canister powered packs can be stored with or without the canister attached.
Store all packs in a cool, dry place for the off-season, End of season checklist, how to store your avalanche safety equipment correctly.
---
Canister Refills including Steel & Carbon:
Snowsafe offers all Canister Refill Options for canisters, simply drop into us where we can refill your canister or purchase it online and send it to us and we will send yours out on the Next day delivery service, Canisters we currently refill:
It's recommended that you refill your canister every season to make sure the canister has the right amount of compressed gas inside and that the canister is up to date.